Solvent Trap Adapters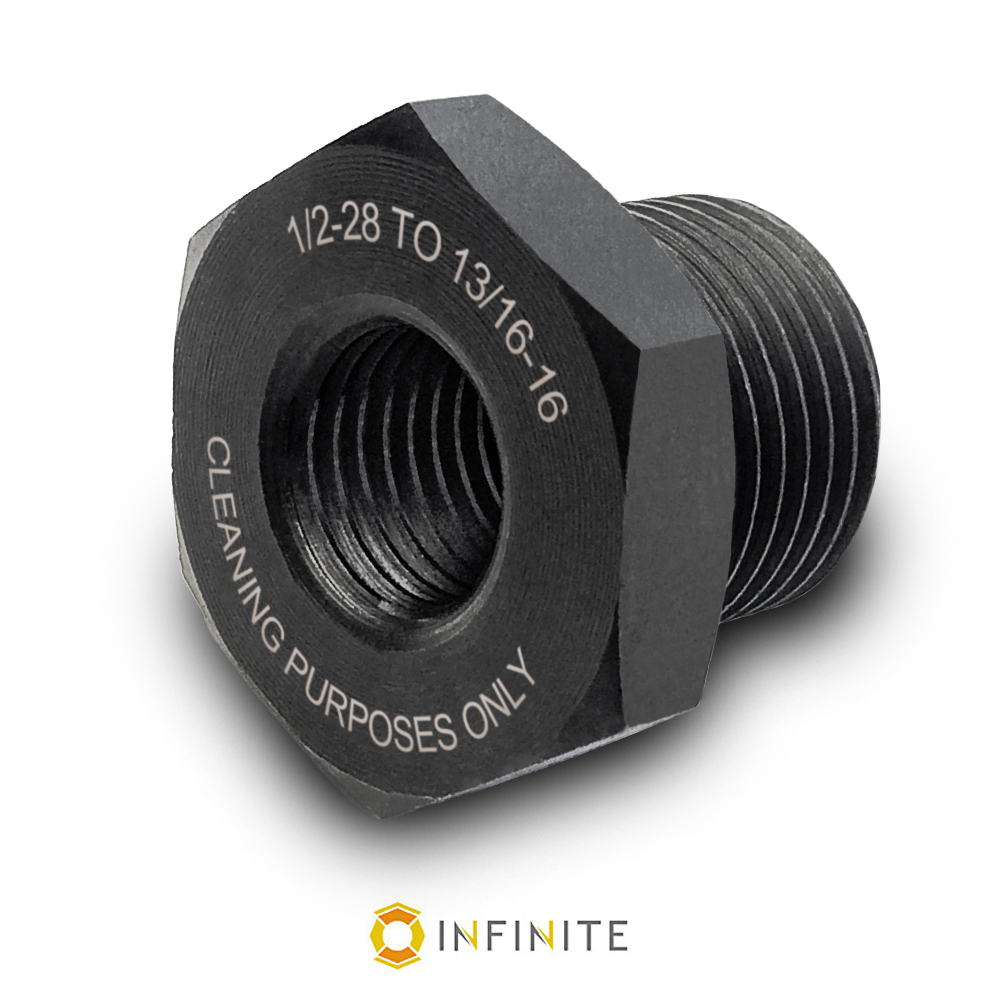 Solvent Trap Adapters Products
Shop Infinite Product Solutions , and find the right solvent trap adapter for your thread sizes. We offer a wide range of oil filter adapters , fuel filter adapters , MagLite adapters, and other solvent trap adapter products. Find what you need to clean your firearm easily and effectively after every use, while ensuring an airtight connection between your gun barrel and your solvent trap. Our inventory is constantly expanding, so check back often to take advantage of the latest deals. Gain access to some of the most cutting-edge solvent trap components on the market.
Why You Need a Solvent Trap Adapter
It's absolutely essential to clean your firearm after each use. This will ensure not only maximum performance but also the maximum lifespan of your weapon. Not only does regular gun cleaning protect your investment, but it also ensures greater safety and dependability when you need it most. But not all gun owners understand the optimal cleaning procedures, and so it's important to educate yourself on the simple yet fundamental process.
Cleaning Your Firearm
Cleaning Solvents
In order to clean your firearm after each use there are just a few components that you're going to need. One is the solvent itself, like the Gunzilla formula, which is available here at Infinite Product Solutions. A quality cleaning solvent will offer corrosion protection while attacking the deposits—such as rust, plastic, carbon, and lead—that accumulate within the firearm. For best results, you'll want to avoid water- and petroleum-based cleaning solvents, as these are far less effective.
Firearm Solvent Trap
The next essential cleaning component is the firearm solvent trap, which may be an oil filter , fuel filter , plastic water bottle , or other cylindrical tube. These are used to collect the solution and accompanying dirt and deposits. After the inside of the barrel has been thoroughly cleaned, the solvent trap is then carefully disconnected from the firearm and cleaned as well. Threaded barrels can accommodate many types of solvent traps as long as an airtight seal can be achieved between the trap and the barrel. And that leads us to the next essential component of firearm maintenance: the solvent trap adapter.
Firearm Solvent Trap Adapter
The solvent trap adapter is designed to accommodate the differing thread sizes that may exist between your firearm barrel and your solvent trap. The firearm solvent trap adapter is a small connecting device that consists of two thread sizes: one to connect to your barrel and one to connect to your solvent trap. When properly connected, the solvent can travel seamlessly from the firearm into the trap without any mess or frustration. All you need to do is determine the thread size of your firearm and the thread size of your solvent trap, and you can choose the correct firearm solvent trap adapter accordingly.
Solvent Trap Thread Sizes
If you don't already know the thread size of your firearm, you can consult your documentation or review our Thread Reference Guide . This handy chart outlines gun barrel thread sizes for many of the most popular firearms in North America, including multiple variations of the extremely popular AR-15. As far as determining the barrel thread size of your solvent trap, much of the work has already been done for you. We have categorized our firearm solvent trap adapter products according to category, so you can easily narrow your search according to the type of solvent trap you already have at your disposal.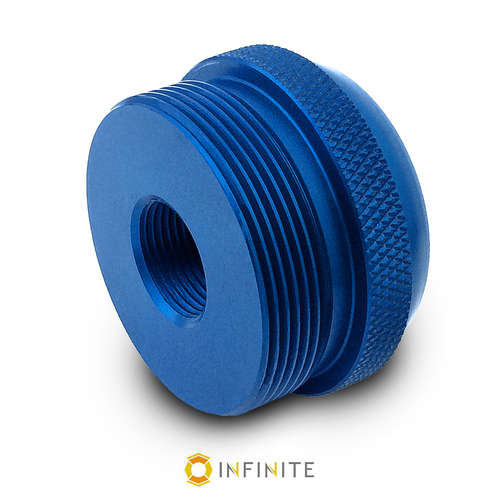 Buy Your Solvent Trap Adapter Today
We know that you have many options when shopping for a firearm solvent trap adapter. That's why we have gone to great lengths to provide superior value, quality, and customer service. When you shop Infinite Product Solutions, you're getting solvent trap adapter products that hold up against the most stringent use, thanks to their high-quality design. We use premium materials like black oxide steel, and we always keep our barrel thread adapter prices competitive for your convenience. If you can't find exactly what you're looking for, please contact us and let us know how we can assist you.
Please make sure to familiarize yourself with all applicable state laws and regulations before purchasing any type of firearm accessories and components or making any types of modifications. Laws can vary among different jurisdictions, and Infinite Product Solutions only supports lawful and responsible uses for these firearm cleaning components.
Explore our wide selection of barrel thread adapters or check out our online catalog to view all the gun cleaning products we carry.
About Infinite Product Solutions
With nearly a decade of manufacturing and sales behind us, our Corona California based firearm accessories company can now accommodate custom orders.
Along with premium muzzle brakes and firearm muzzle brake kits, Infinite Product Solutions has been manufacturing and selling gun cleaning kits and barrel thread adapters for nearly a decade. We can also ship to customers around the world! See our shipping and returns page for more information on international orders and vendor program specifics.
To learn more about Infinite Product Solutions, or if you still have any questions, please call our experts at 1-951-220-7948, send us an email, or fill out our online contact us form.